"Its such a great app to have. i can set the charging to off-peak times so it costs me even less to charge my kia soul ev."
s.khan SOUL EV DRIVER
Take your car into the new digital era.

Get real-time information with Kia Live and a new level of control with the UVO App. Available on Apple and Android.
Find out diagnostic data about your vehicle and your driving statistics through the range of dedicated features. Activate a range of functions on your Kia car with just a touch of a button.

Stay updated! KIA LIVE

Kia Live gives you detailed information about your trip and displays car diagnostics in real time directly onto your navigation screen. Kia Live will always keep informed with Live Traffic Updates, Live Fuel Prices, Weather Forecast, Voice Recognition, Parking Information and Charging Stations.

Live Traffic Updates - every two minutes, highly accurate data is sent to your vehicle about current traffic situations. This will show on your satellite navigation screen and provide alternate routes or areas to avoid.
Live Fuel Prices - get the best deal when you need to fill up! Kia Live will update fuel prices so you can plan where to fill up.
Weather Forecast - don't get caught in a rainstorm again. Kia Live will update your Kia vehicle with a four-day forecast of your destination. Find out the minimum and maximum temperature, wind speeds and the chance of sunshine or rain.
Voice Recognition - your Kia will keep you safe on the roads. Use voice recognition to talk to your Kia vehicle and it will act out those commands. This means you won't need to let go of the steering wheel.
Parking Information - never be left driving around wondering where to park. Kia Live will let you know the location of parking areas so you can plan your trip in advance. They use historic data to know the locations of these parking areas.
Charging Stations - as the world is changing, so is Kia. We are introducing more and more Plug-in Hybrid and Fully Electric vehicles. Never be left limited to where you can travel, use Kia Live to find charging stations for your vehicle. They will let you know the compatibility and also payment methods.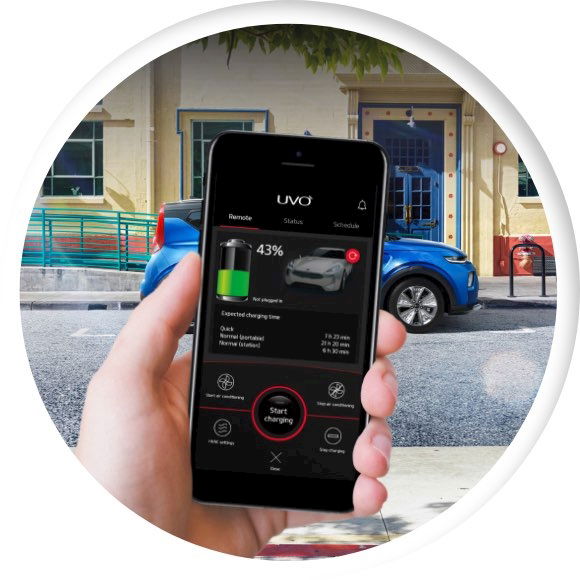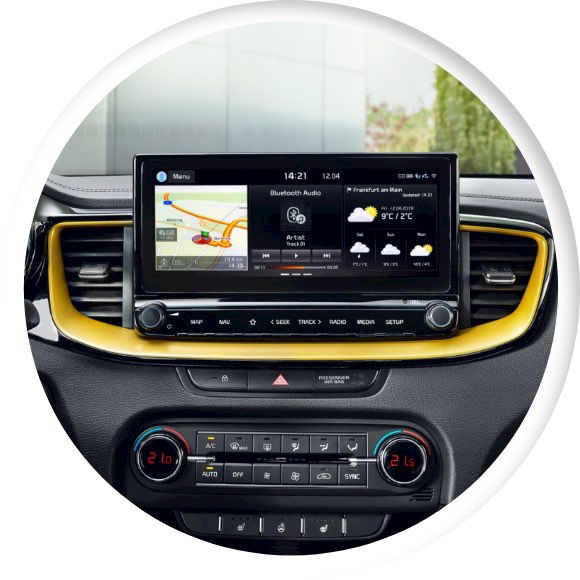 The Kia UVO App is compatible with the following Kia Models:
BATTERY CONTROL (EV MODELS)
Stay fully in charge. Using the Kia UVO App you can remotely start, stop and schedule your charging. This feature will minimise the cost of charging your Fully Electric Plug-In Kia as you can set it to charge during 'off peak' electricity times.

MY TRIPS

Never miss a trick. The Kia UVO App will send a summary of your previous journeys. This will include average speed, distance driven and the timings of your journey.

Find my car
Avoid the stress of remembering where you parked your Kia vehicle. The Locator function will know where you last parked your car and provide the details straight to your app. You will no longer be searching in large car parks or unfamiliar streets.
Notifications

Keeping you in the loop. Your vehicle will send you a notification whenever your car alarm is triggered. Your Kia vehicle will also share with you important insights and diagnostic information on a regular basis.
Send to Car
Ready to Rock 'n' Roll. Pre-plan your journey and send it straight to your Kia's satellite navigation system via the UVO App.
Vehicle Status

Always in the loop. Key elements of your car can be shown on your UVO app. This includes if your doors are locked, ignition switched on and the battery and charge level.
CLIMATE CONTROL (EV MODELS)

Perfect. Every time. You can remotely activate, set and schedule the climate control before you jump in the car. A cold start to the day will be a thing of the past, set the temperature of your Kia car via the app and have a warm and toasty car waiting for you. This feature is also great for your Kia vehicle to work at its best. When your car battery is at the correct temperature, it will deliver the best response and the ideal power conversion right from the start.