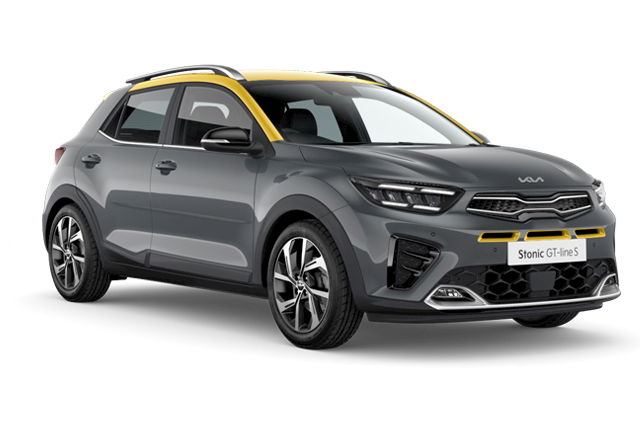 1.0T Gdi GT-Line S with automatic air conditioning, reversing camera and GT-Line alloy wheels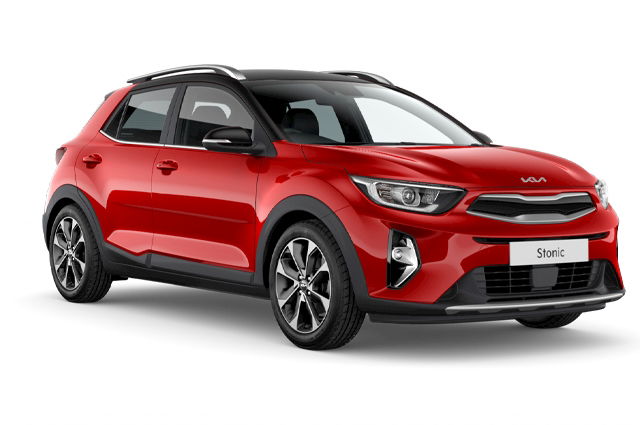 1.0T Gdi Connect with automatic air conditioning, reversing camera and alloy wheels available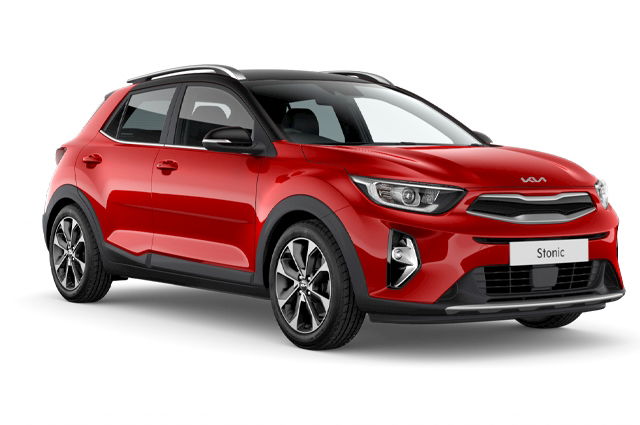 1.0T Gdi Connect with automatic air conditioning, reversing camera and alloy wheels available
The Kia Stonic
Live Every Moment
Grasp every moment
Created for drivers who grasp every moment, push every boundary and relish every adventure, the Kia Stonic brings fresh excitement and a free spirit to the crossover experience. With its sleek muscular body, sporty compact styling, exceptional handling and outstanding performance – the Kia Stonic is for those who always demand more from life.
Escape the everyday
From first glance the Kia Stonic sets its own rules, with looks that challenge convention. Its dynamic sporty appearance at the front is thanks to the 3-dimensional shape of the grille, vertical fog lamp housings and integrated bi-function headlamps with sharp LED 'Daytime Running Lights'. Add to that a choice of 6 two-tone colour combinations and 5 one-tone body colours, and you have a style that simply says 'my life … my way'.
Challenge convention
From behind, the agile Kia Stonic makes a striking and lasting impression. The dramatically raked, spoiler-capped rear window and bold wheel arches give it a muscular view; whilst three-dimensional graphics inside the LED rear combination lamps make it truly striking. What's more its sleek, sculpted tailgate and silver skid plate gives it that strong but silent urban feel which guarantees to turn heads. (LED lights are grade dependent).
Seize every second
When you're in control, information is essential and the Kia Stonic puts it right where you need it, while banishing any distractions. Bluetooth technology offers hands-free access to your phone using voice recognition, whilst the state-of-the-art information system with its floating colour touchscreen keeps you fully informed and entertained.
Where? When? How? The answer is here.
Our new navigation system with Kia's Connected Services powered by TomTom Live Services takes reliable route guidance to the next level of accuracy and excellence. It keeps you in touch with the outside world and offers more handy information than ever. At the heart is a WiFi unit that enables the Stonic navigation system to connect to the Internet through your smartphone.*
GALLERY
EXPLORE THE Kia Stonic
PROTECT YOUR Kia Stonic
ASSET PROTECTION
Stockton Kia offers a range of Automotive Insurance Solutions products for your new or used car. These include GAP insurance, Cosmetic Repair Insurance and Tyre and Alloy insurance. These products are designed to provide you with peace of mind when purchasing your next car, in case the worst happens. When purchasing your next car from Stockton Kia, your sales executive will explain these products to you in detail at the time of purchase. If however, you would like to know more now, we have outlined each product below.
Learn More About These Products