Keeping you moving through the lockdown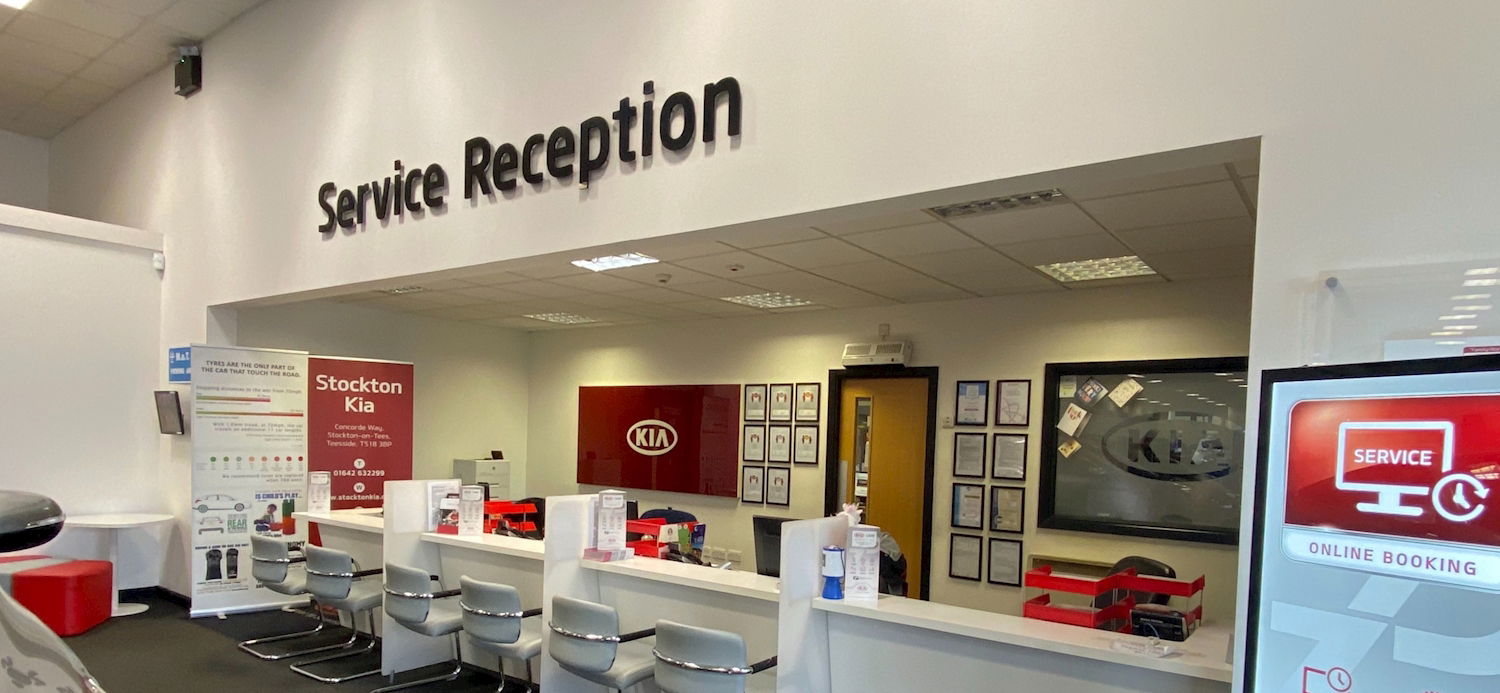 The UK Government announced on Saturday evening plans for a new four-week lockdown in England, again forcing non-essential retail including car showrooms which re-opened on June 1st, to temporarily close on Thursday 5th November until Wednesday 2nd December, as part of the national effort to decrease COVID-19 case numbers.

Our service and parts centres are allowed to remain open as an essential service and we will be managing availability throughout November based on customer demand, but if your car is showing any warning lights and requires a fault to be diagnosed, or if you are concerned about your car for any reason, our teams will be able to accommodate your needs and if you have a current booking there is no need to cancel.

Please watch this video which shows exactly how to book your vehicle into our service department via our website.
You can also call us on 01642 632299.

At Stockton Kia, after many weeks of meticulous planning during April and May, we have been safely greeting customers and colleagues back to our dealerships throughout the summer and have delivered many hundreds of new and used cars to our valued customers in a COVID-Secure manner.
In what I believe to be a sensible approach, the Government is however, allowing non-essential retail to operate click and collect or home delivery services. At Stockton Kia we have offered these services since re-opening and our current expectation therefore, is that we will be able to continue to handover cars to customers throughout November, in a COVID-Secure way and take new enquiries via our home-based sales teams and through the new Buy Online feature on our website, Stocktonkia.co.uk.
This service allows our customers to reserve a used car for £99, guarantee their part-exchange valuation, apply for finance, and buy a car online from the comfort of their home. Once an order has been placed, one of our team will then be in touch to answer any questions and organise handover.

It is clear that the country faces another challenging period and that we must all work together to beat the virus, however as a business we have learned a great deal since March 23rd and I am confident that we are able to continue to support our customers, keep everyone safe and whilst it definitely isn't "business as usual" you can rely upon on us to be there for you when needed.
Kind Regards

Sohail Khan - MD
Please watch this video which shows how to apply for finance and reserve used vehicles on our website.
*Terms applicable to Home Delivery And Collection
If the vehicle is purchased at a distance within the meaning of The Consumer Contracts (Information Cancellation and Additional Charges) Regulations 2013, the Customer may within 14 working days of Delivery cancel the contract and require the seller to refund the purchase price. In this instance, the customer must keep the Goods in a reasonable condition and return the goods or make them available for collection, pay the company's reasonable costs of collection, where the Vehicle odometer records more than 250 miles travelled from the odometer reading at Delivery or Collection (as shown on the Invoice) the sum of £1 per mile over 250 miles, and the reasonable costs of any rectification works for damage caused to the Vehicle whilst in the Customers possession.
1 DELIVERY AND COLLECTION
1.1 Delivery or Collection of the Vehicle shall be deemed to have been completed when the Company supplies to the Customer the Vehicle and the Vehicle invoice;
1.2 Delivery or Collection from the address of the supplying Dealership as the case may be, shall be made at a time and date agreed between the Company and the Customer within Dealership opening hours and specified in the Order Confirmation. Any dates quoted for Delivery or Collection for the Goods are approximate only and the company shall not be liable for any delay in Delivery or Collection of the Goods. Times for Delivery and Collection shall not be of the essence unless time being of the essence is previously agreed by the Company in writing. The Goods may be delivered by the Company in advance of the quoted delivery date.

1.3 If the Company fails to deliver the Goods, or make them available for Collection, for any reason other than any cause beyond the Company's reasonable control or the Customer's fault, the Company shall not be liable to the Customer, beyond reimbursement of the Purchase Price paid by the Customer as set out on the Vehicle invoice.

1.4 If the Customer fails to take Delivery or Collect of the Goods or fails to give the Company adequate delivery instructions for the time stated for delivery (otherwise than by reason of any cause beyond the Customer's reasonable control or by reason of the Company's fault) then, without prejudice to any other right or remedy available to the Company, the Company may:
1.4.1 store the Goods until actual Delivery or Collection and charge the Customer for the reasonable costs (including insurance) of storage; or
1.4.2 terminate the contract