£5138 deposit and £570 a month.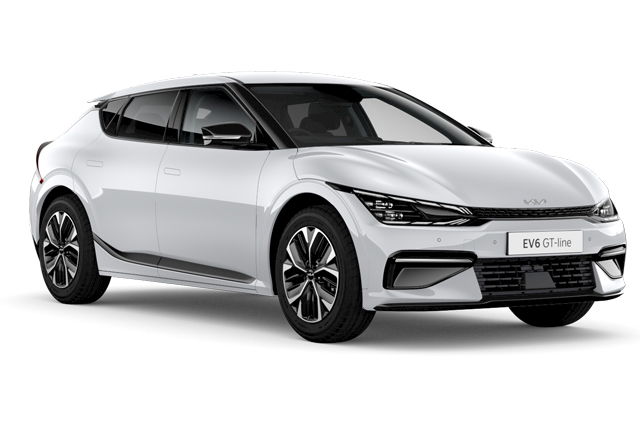 From £4590 initial and £510 Per Month With Kia Contract Hire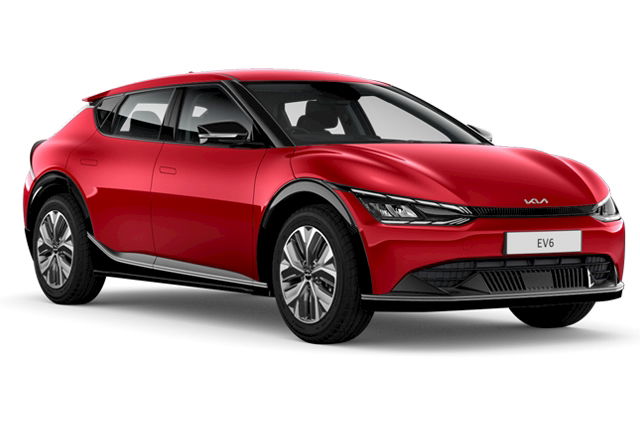 From £4248 Initial and £472 per Month with Kia Contract Hire


The All-NEW fully electric KIA ev6
With up to 328 mile range
From £40,895
The Kia EV6 is the first vehicle to encompass the new Electric-Global Modular Platform (E-GMP) designed by Kia. The flat floor design allows for a diverse number of interior layouts as well as a large cabin size, thanks to the 2.9m wheelbase, the EV6 has a similar size to many mid to large SUVs. With up to 316 mile range, ultra-fast charging of over 60 miles in 5 minutes and 0-60 in 3.5 seconds (GT Model) the Kia EV6 is a source of inspiration for the EV world.
The Kia EV6 supplies up to 3.6kW of electricity, which means it can serve as an emergency power supply for your home or work as a portable generator for outdoor activities. As well as a towing capacity of up to 1,600kg.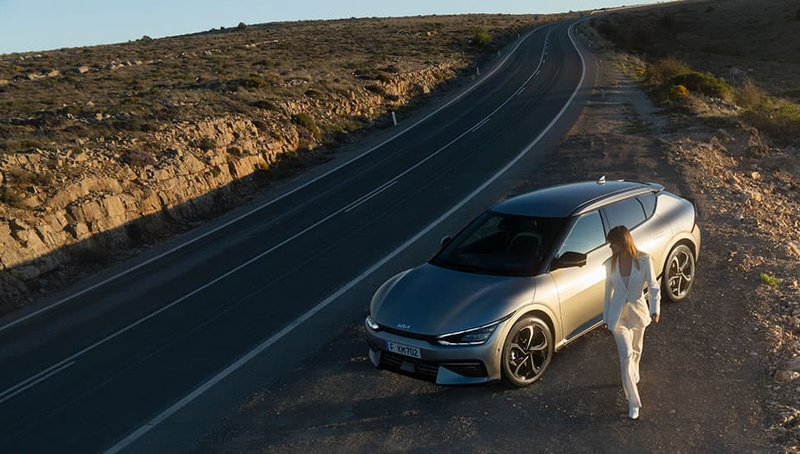 Ready for the future
The EV6 is a fully electric crossover from Kia. It marks a new era and sets new standards for years to come. Get inspired by its eye-catching and inspired design.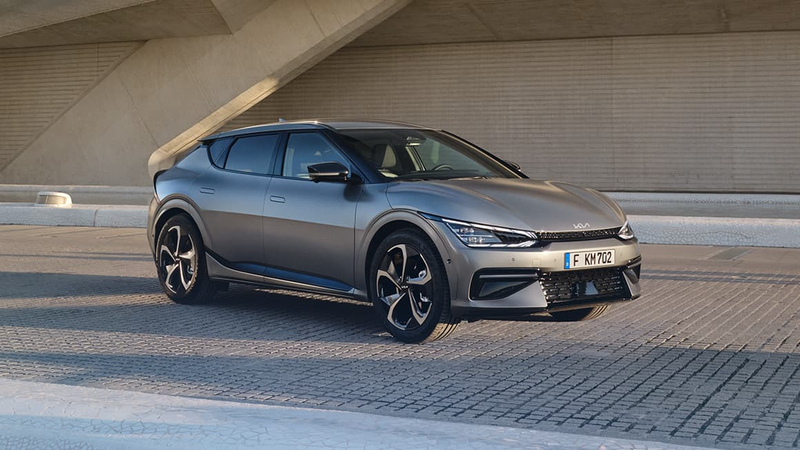 DESIGNED TO INSPIRE
The EV6 is a modern and sporty crossover. With an eye-catching, muscular design, every detail, big and small, is designed to create a distinctive and sporty look.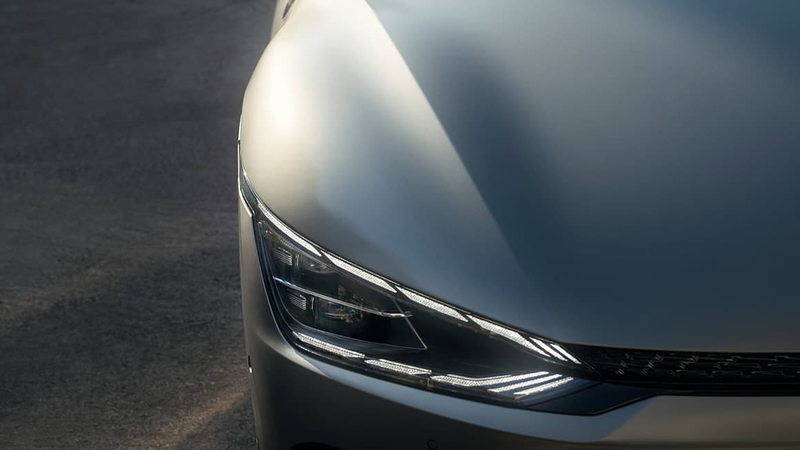 INTELLIGENT FRONT LIGHTING SYSTEM
The EV6 is a modern and sporty crossover. With an eye-catching, muscular design, every detail, big and small, is designed to create a distinctive and sporty look.

UNIQUE LIGHT SIGNATURE
Our one-of-a-kind, rear light signature stretches in a curved line that connects the rear wheel arches on either side. Multiple LEDs create a piano-look effect that makes a striking visual statement.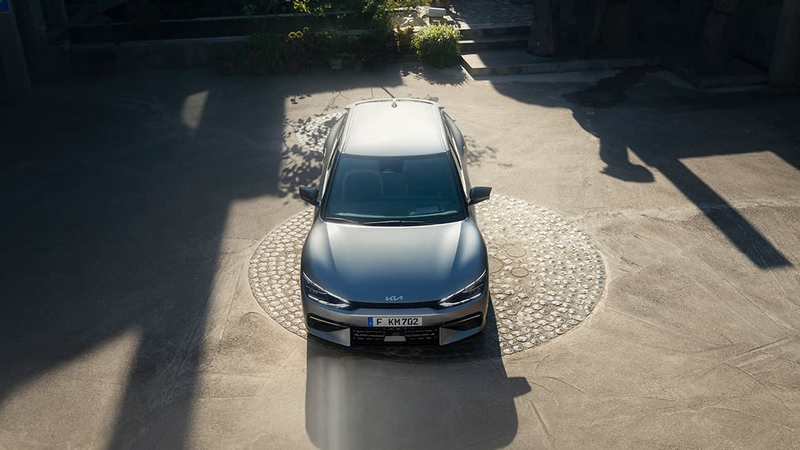 WING-TYPE ROOF SPOILER
The EV6's roofline is straight and sporty. It ends with a wing-type roof spoiler that not only elevates the design, but also improves the aerodynamics.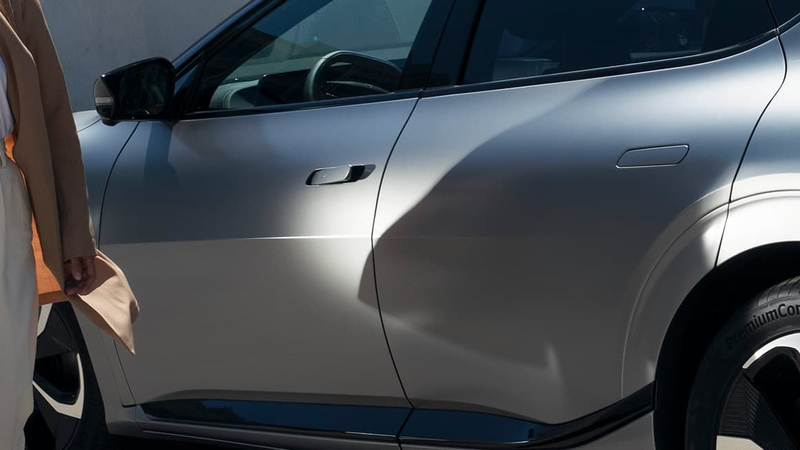 FLUSH HANDLES - AUTOMATIC
The EV6's flush door handles pop out when you approach the car. Not only does it look great but it also improves aerodynamics.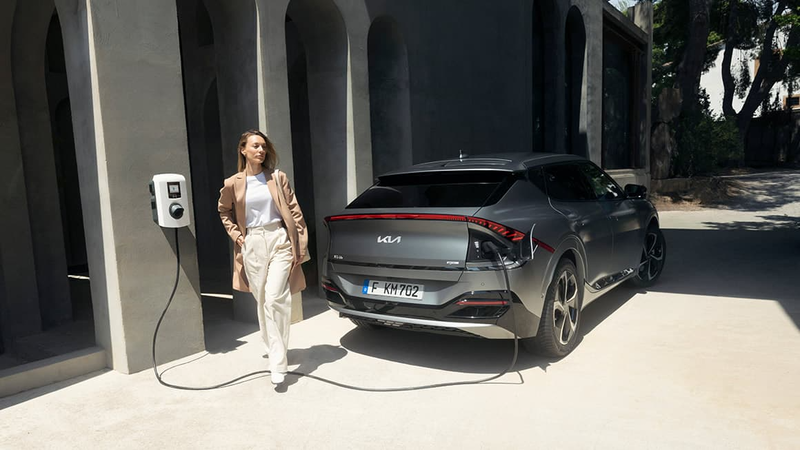 ULTRA-FAST CHARGING
Thanks to the EV6's 800 V high-speed multi-charging system, you can spend more time driving and less time charging. You can get up to 62 miles driving range in just 4.5 minutes when charging at public stations providing 250kW power.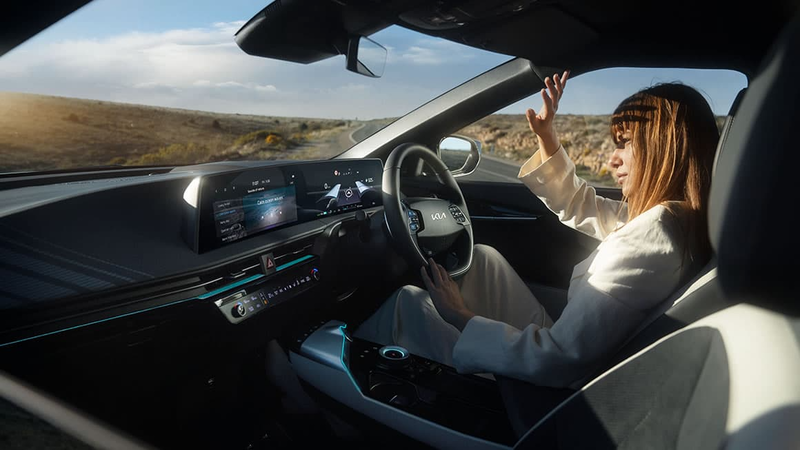 GET INSPIRED.
Stepping into the EV6 is like stepping into the future. The cabin is built to keep you focused, inspired and safe.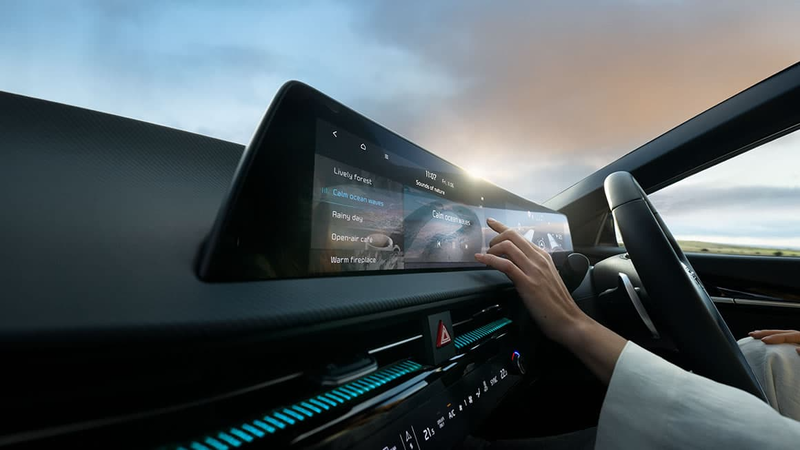 IMMERSIVE DISPLAY
The immersive panoramic dual 12.3" curved displays heighten your driving experience. They provide all the information and controls you need in an intuitive way.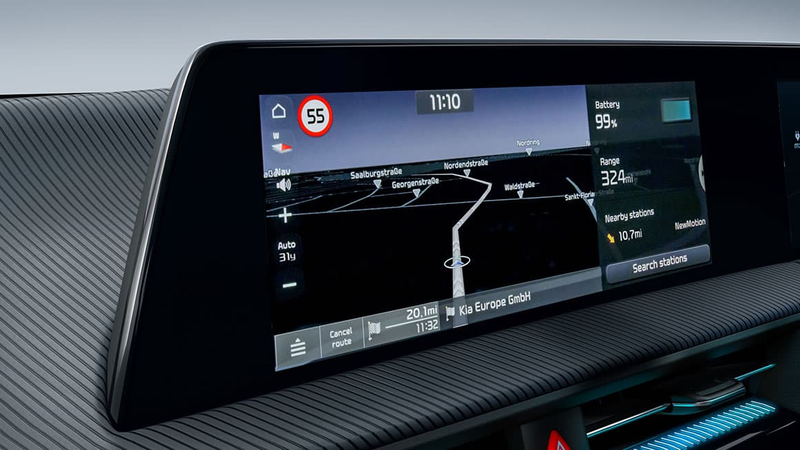 IMPRESSIVE NAVIGATION
The EV6 offers turn-by-turn navigation through its panoramic dual 12.3" curved displays. But that's not all; the augmented reality head-up display provides turn and lane safety instructions in your line of sight.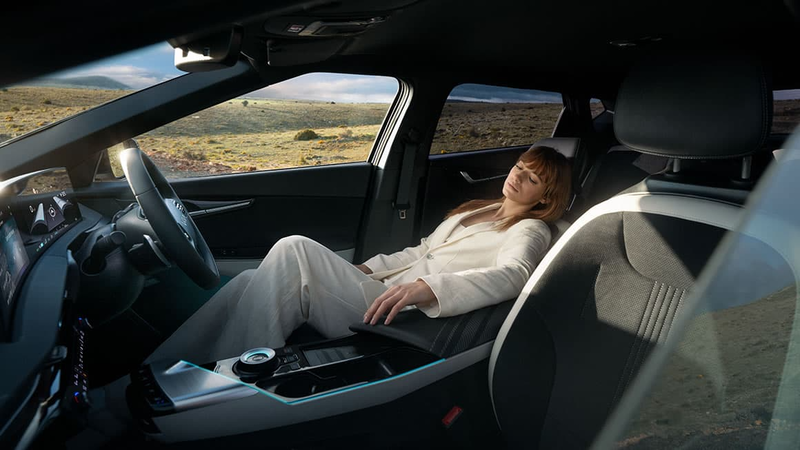 PREMIUM RELAXATION SEATS
The Kia EV6's front seats recline to let you relax whilst charging. When reclined they optimise your posture and better distribute your body weight for maximum comfort.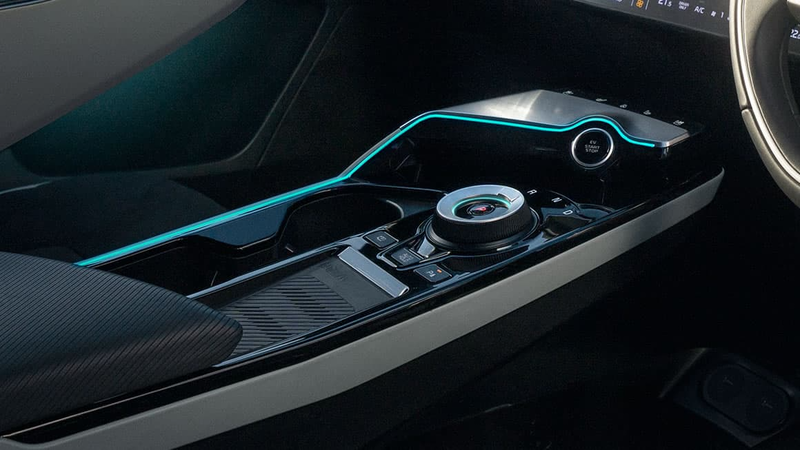 INTERIOR EXPERIENCE
When designing the interior of the EV6, we wanted to create a unique, human-centered experience. The ambient mood lighting adds an extra touch that feels both soothing and luxurious.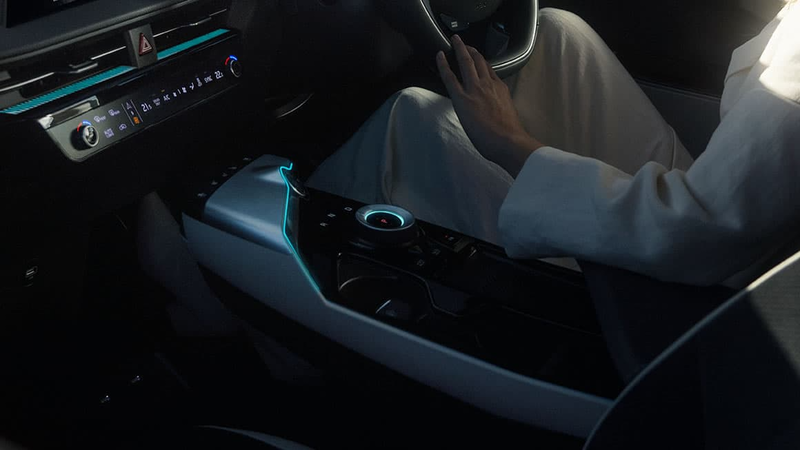 FLOATING CENTRE CONSOLE
The spacious cabin is equipped with a floating front centre console that plays host to storage compartments and a wireless phone charger. This is our way of improving life on board.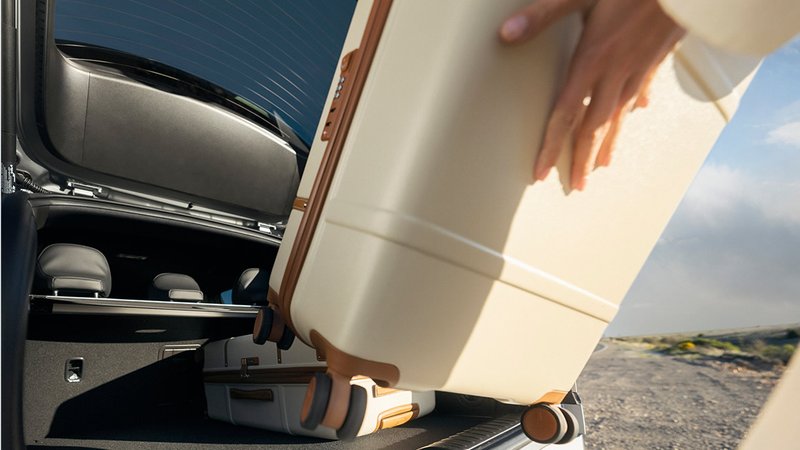 CAPACITY
The EV6 offers you a spacious trunk with a capacity of up to 490 litres. Since there is no combustion engine under the bonnet, you also have a 'frunk' - a front trunk - that gives the EV6 up to 542 litres of combined storage.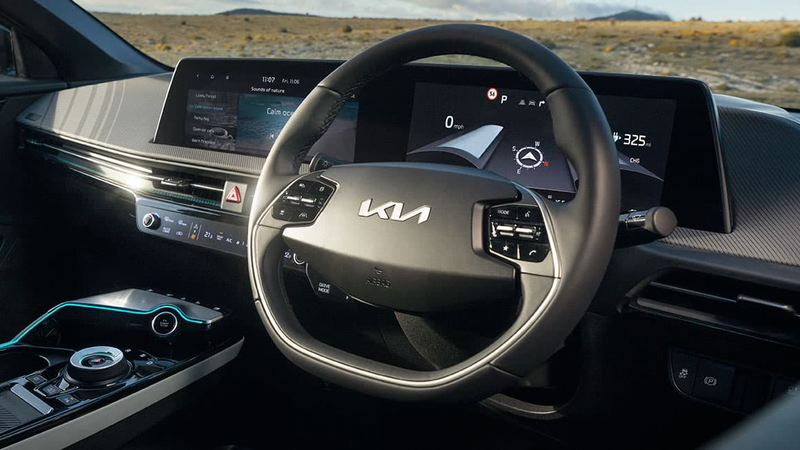 STAY IN CONTROL
The EV6's steering wheel lets you control everything necessary. Not only can you answer calls and change music track, but you can also maximize your driving range by using the regenerative braking paddles.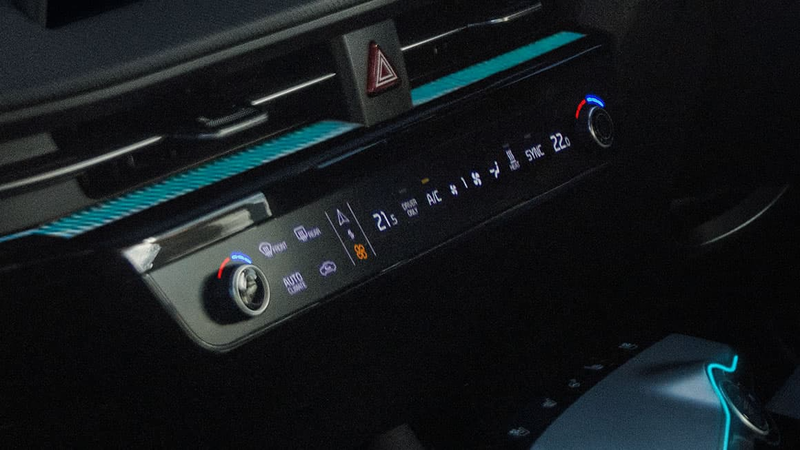 INTUITIVE SWITCHABLE CONTROLLER
With the switchable controller located on the centre fascia, you can easily switch between the navigation and the climate control options at the touch of a button. This makes the interior less cluttered and more intuitive.

Powertrains

The three different powertrains of the new Kia EV6 are designed to inspire you. Whether your preference is for more range, power or downright thrill, the Kia EV6 has the right package for you.

RWD
Want to go far? No problem, go far! Combined with the 77.4 kWh battery pack, this rear-wheel drive can take you up to 328 miles on one charge. Ultra-fast charge from 10 to 80% in only 18 minutes, so you can stay on the road.
Battery pack: 77.4 kWh
Drivetrain: Rear-wheel drive
Range: Up to 328 miles
Fast charging: 10-80% in 18 minutes
0-62 mph: 7.3 seconds
Power: 226 bhp (168kW)
Top speed: 114 mph
Towing capacity: Up to 1,600 kg
AWD
Want more? This is the car. This is the car. This is a powerful car for those who like a little extra. With all-wheel drive, 239 kW and a towing capacity of up to 1,600 kg, this car faces all types of challenges. With no emissions, of course.

Battery pack: 77.4 kWh
Drivetrain: All-wheel drive
Range: Up to 314 miles
Fast charging: 10-80% in 18 minutes
0-62 mph: 5.2 seconds
Power: 321 bhp (239kW)
Top Speed: 116 mph
Towing Capacity: Up to 1,600 kg
GT AWD
Get powerful. The GT powertrain is the most powerful EV6. It's a car that gives you that memorable driving experience with 430 kW, 77.4 kWh battery pack and an estimated 252 miles of electric range.
Battery pack: 77.4 kWh
Drivetrain: All-wheel drive
Range: Up to 252 miles (expected)
Fast charging: 10-80% in 18 minutes.
0-62 mph: 3.5 seconds (expected)
Power: 577bhp (430kW)
Top speed: 161 mph
Towing capacity: Up to 1,600kg